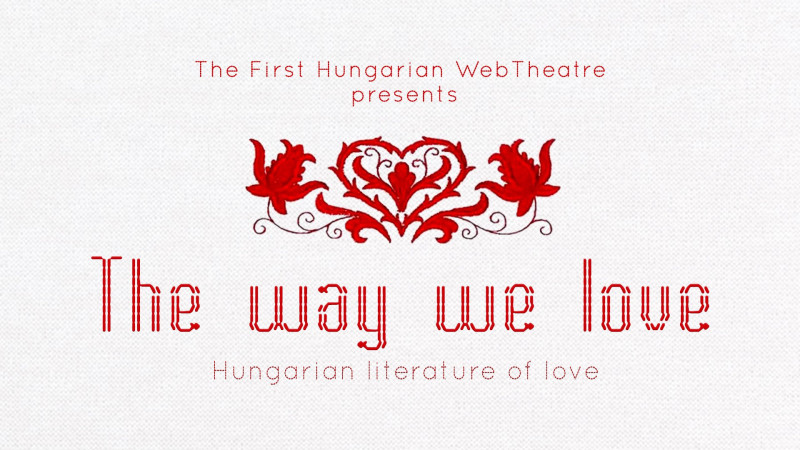 First Hungarian Web Theatre - The Way We Love
TRIP - 1011 Budapest, Szilágyi Dezső tér 2-es móló (TRIP Hajó)
Színházi előadás
Időpontok
Performances of the First Hungarian Quarantine Theatre can only be followed on TRIP Facebook page. The venue is closed by the time being.
***
Have you ever wondered how Hungarian poets love?

The First Hungarian Quarantine-Theatre presents: The way we Love-Hungarian literature of love.
In the next chapter of our experiment of bringing our Hungarian culture closer to anyone, we present some of the most beautifully written, mostly contemporary art works. We will suffer together, sigh together, cry together, laugh together, and we will try to understand the meaning of love, in every possible layers.

The poets:
Péter Esterházy
János Szentmártoni
Margit Szécsi
György Rostás-Farkas
Tibor Babiczky
András Gerevich
Márton Simon
Zsuzsanna Takács
János Áfra
Péter Závada
Judit Ágnes Kiss

***
Every performer agreed to join the First Hungarian Quarantine Theatre without getting paid in return. By buying tickets and donating to us, you help us keep working in these tough times. All the donations go to keeping TRIP afloat and supporting the performers. All you have to do is add the 100 HUF ticket to your basket, then on the checkout page, you add the amount of money you would like to donate us apart from the ticket price.
Közreműködők
Read by:

Roderick Hill
Owen Good
Alexis Latham (2020.05.14 Előadáson)
Kövess minket