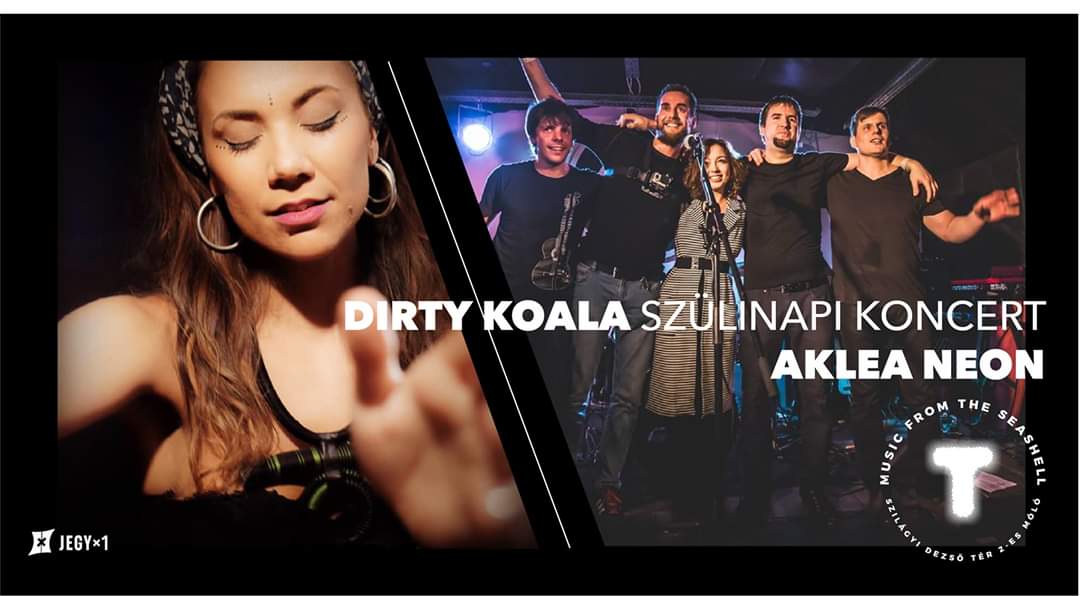 Dirty Koala 7 éves szülinapi koncert / Aklea Neon
TRIP - 1011 Budapest, Szilágyi Dezső tér 2-es móló (TRIP Hajó)
Koncert
Időpontok
Dirty Koala
Pop pofonok és rock gyomrosok, szevasztok! 7 éves a Dirty Koala, és 5 éve vagyunk együtt ebben a felállásban. Ezt jól meg is akarjuk ünnepelni. Pszichoprogresszív alterrock, avagy világslágerek, ahogyan mi szeretjük.
Aklea Neon
Fully wired afro-soul ethno-beats one woman band
Aklea Neon, is a songwriter and traveling musician from Osijek. She channels her Afro-soul ethno-beats with her whole body - with her foot on pedal looper, hand on guitar and MIDI controller, with voice that resonates to the scalp. After the end of her first solo tour, during which she held around 40 concerts this "fairy of rhythm and beat" has gathered audience sympathy from Dubrovnik to Berlin. Aklea's debut single "Da mi je" - recorded in London, originated in Croatia with footage of a motorbike road trip across Brazilian coast - is a song that has legs, wheels and wings. The second single "Pola puta " was released on Femme Nouvelle compilation voice-to-voice with the most influential songwriters in Croatia. Aklea is also the author of the YouTube NeonOn session, her latest single "What I want" is infused with infectious afro and melodic sound, counting over a three thousand YouTube views in just few days since its premiere.
Da mi je: https://youtu.be/hGcZEzcCjHE
Pola puta: https://youtu.be/_GBuihPotxM
What I want: https://youtu.be/Z0r_6UCMnjQ
Facebook:
https://www.facebook.com/pg/dirtykoala
https://www.facebook.com/AkleaNeon
Jegyár: 1000 Ft.